Today we're talking to Ryan Ritter, the Executive Director of Operations for Town & Country Markets. T&C is a family-owned company that was founded by John and Mo Nakata and their friend Ed Loveirch on Bainbridge Island in 1957. Since then, the island's first market has expanded to six around the Seattle region.
Let's find out more about Ryan's favorite local memories, his recs for road tripping and what T&C is up to in the community, shall we?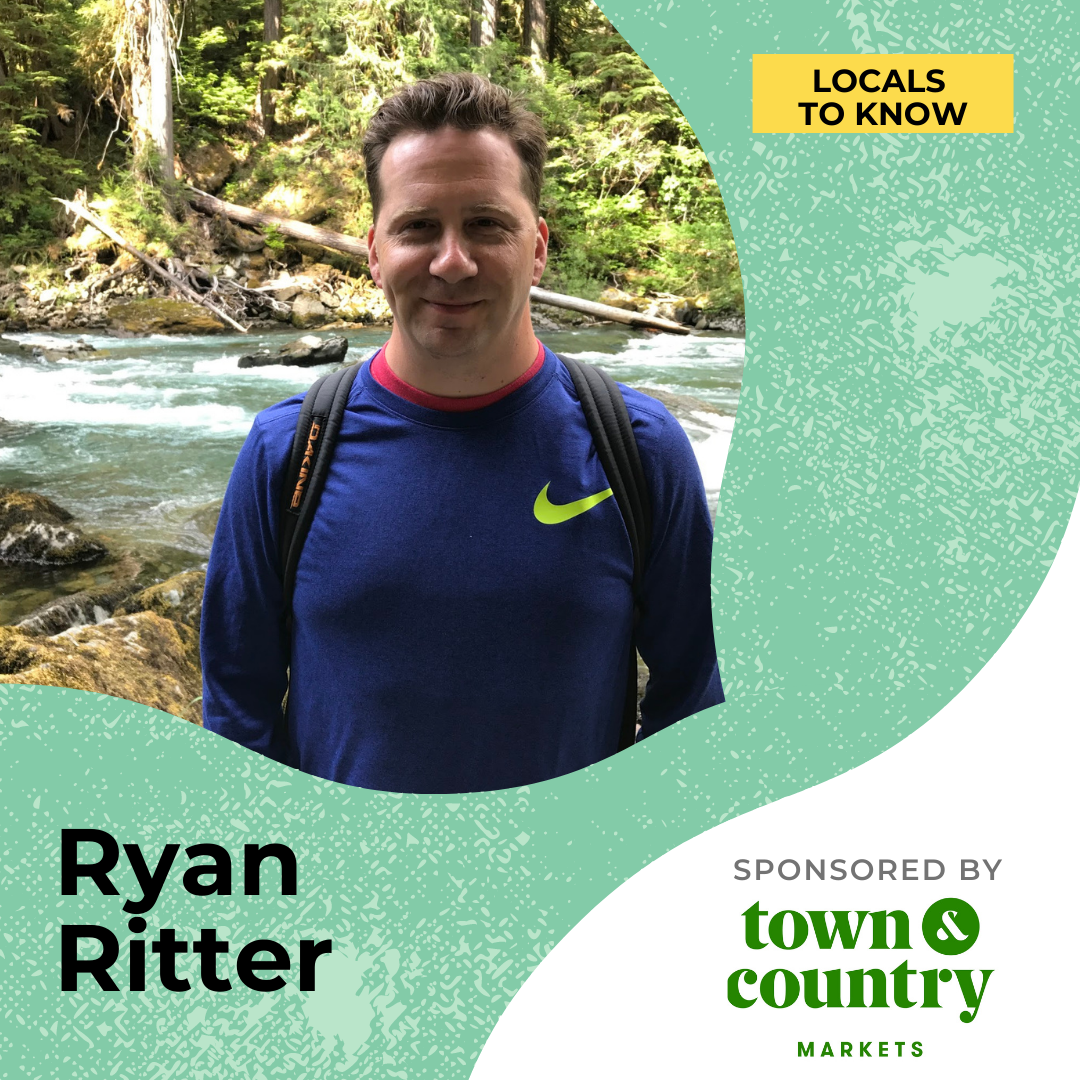 Tell us about your work — your job and/or any volunteer work. 
I am currently the executive director of operations for Town & Country Markets. In this role, I oversee the information technology department, which includes emerging technology developments, retail pricing and promotion strategies in addition to our eCommerce system and platform. As well, I oversee the product directors [of] produce and floral, meat, seafood, food service and Center Store (all things grocery). These divisions are responsible for the sourcing, curating and account management for all of the wonderful items you find within Town & Country Markets today. And lastly, I oversee our market operations, which includes everything from market leadership to the services we offer.
Currently, I volunteer with the Troy and Baden Biddle Foundation. It was established to honor the memory of father and son Troy and Baden Biddle. This Foundation seeks to enrich the Bainbridge Island community they called home, and where they cultivated lasting friendships through their respective love of sports. Troy and Baden were close family friends and were tragically taken from us in November of 2017 at the hands of a drunk driver. The foundation honors Troy and Baden by recognizing student athletes who share characteristics and qualities important to and embodied by the duo. Each year we offer scholarships and grant opportunities to those who live, attend school or play sports in the Bainbridge Island community.
What's your favorite Seattle memory? 
My most memorable Seattle moment was the day after I interviewed to join the family at Town & Country Markets back in 2014. I needed to catch an early flight out of town, so I took the 7:55 a.m. ferry out of Bainbridge Island en route to SeaTac. It was an absolutely beautiful morning, and as we traveled across the Puget Sound, I ventured to the upper deck for a photo of the sunrise. Words alone do not give justice to this spiritual moment in my life. Not only had I just interviewed with the most wonderful company, but I was also blessed with a sunrise that you only see in books and movies. It is a moment that will forever stay with me when I think about Seattle.
Pick a favorite local outdoor experience. What is it? What're we doing? Who's going with ya?
I love to go camping on the Olympic Peninsula. A few years back, I built a camper van so that the family could get out on the weekends and enjoy the beautiful Northwest. Throughout the year you'll find my wife, my two boys and myself out looking for new and exciting areas to explore. Our mission is to find a relaxing, quiet place to unplug and hang as a family.
Tell us about a new local artisan who you're really excited about and feel Seattleites should know. 
PacWesty operates beautifully maintained adventure vans that come outfitted with everything from stoves to beach chairs, sleeping bags to French presses — all you need to let the good times roll. The company has also been working to electrify their adventure vans fleet, which makes them the most sustainable, highest performance, and socially responsible adventure camper you'll find anywhere. I can't think of a better way to explore our beautiful national parks than in a zero-emission van.
If you could eat only one meal from a local restaurant for the rest of your life, what would it be? 
Easy, The Dry Aged Eye of Ribeye Beef Pho at Basa on Bainbridge Island. If you have a free evening or weekend, jump on the Bainbridge Ferry out of Seattle for a beautiful 35-minute journey across the Puget Sound.
What's a project you're working on (big or small) and how can our readers help you with it?
We've been working on electrifying most of our eCommerce Delivery Vans. Currently, I am working on expanding the fleet and exploring new areas within Seattle and Kitsap Country to grow our services. We would love for you to give us a try and let us know how we could improve our services and ecommerce platform. We love feedback! Many of our newest features, products and services have been a direct result of our customers letting us know what they would like to see in our markets and online.
What are you looking forward to this year?
I am looking forward to getting back out into the world and connecting with local companies that we can partner with at Town & Country Markets. What has made Town & Country such a special place over the years is the ability to explore and discover locally sourced products on our shelves. COVID has made it a bit more challenging to connect with our local vendors over the past few years, but I already have a few tours set up with local growers over the coming months, and I can't tell you how excited I am to see where we are going together.
Know of a person or organization that we ought to feature? Send us an email to [email protected] with the subject line "Evergrey, Locals to Know," and you could see their name in an upcoming newsletter!